Welcome to the The Bride of the Water God Wiki
Edit
The Bride of the Water God is a manhwa whose author is Yoon Mi-Kyung. It tells a story of a Water God falling in love with a human girl Soah.
Soah is a girl from a small village. The Water God is upset and so a long drought has been devastating the village people. In order to appease the god, they marry Soah off to him by sacrificing her to the Water God in exchange for rain. The Water God rescues her to his Water Kingdom, where her new life begins. For Soah, this is a story of her faith...her life...her love...
Although the author is Korean the setting is back in Ancient China. The characters also dress in ancient Chinese clothing known as the Hanfu- it is not the kimono, there is a difference.
Latest activity
Edit
Photos and videos are a great way to add visuals to your wiki. Find videos about your topic by exploring Wikia's Video Library.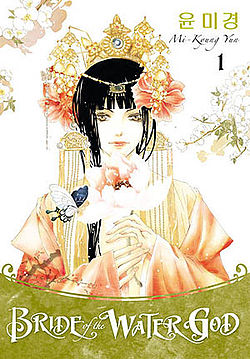 Community content is available under
CC-BY-SA
unless otherwise noted.